Sailor who? Mysticons is a new kind of female-driven action cartoon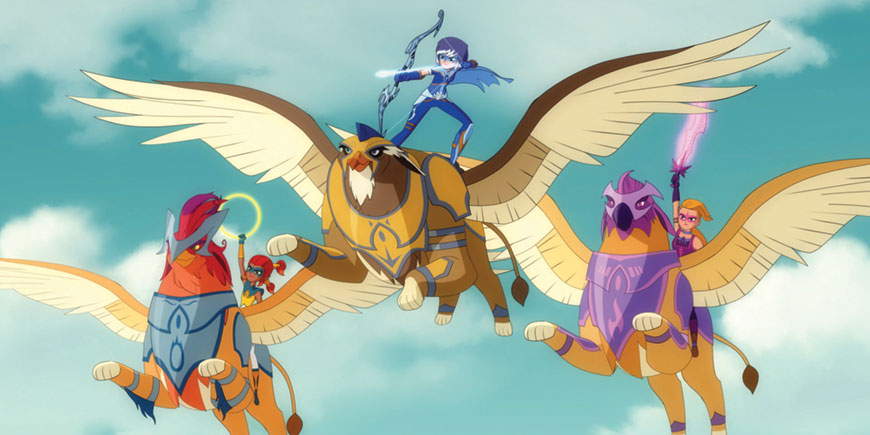 Tags: News Animation Television Trends Customer Story
It's not often that women take the lead in action stories. While the commercial and critical success of "Wonder Woman" disrupted the male-dominated world of heroics on the big screen, cartoons are still very much a boy's club. "Mysticons" is changing that — both on-screen and behind the scenes.
The 40-episode first season of "Mysticons" premieres on Nickelodeon and YTV on August 28. The fantasy action cartoon follows four young women from varied backgrounds who are transformed into legendary warriors by a powerful mystical tome. The 'fearless foursome' —Arkayna, Zarya, Em and Piper— have distinct personalities and differences, but are united by friendship and the need to protect their realm from evil.
Series creator and producer Sean Jara was inspired by the "Dungeons and Dragons" games of his youth and envisioned a world that was equal parts fantasy and urban. "The idea was Middle Earth meets Manhattan, with a band of cool girl heroes who rise up to defend the realm," he explains.
The relationships of the main characters and representing girls' power, strength and courage became central to his vision. In "Mysticons", not only are the four protagonists young women, but Jara made as many characters as possible female and from diverse backgrounds.
"On 'Mysticons', we had the opportunity to create four distinct girl heroes that were more representative of today's kids, particularly girls," he tells Toon Boom. "We felt it was important for our characters to be role models for all children — who are strong, aspirational, intelligent and funny, but who also have the complexities, quirks and flaws that would allow a variety of kids to see themselves in our characters."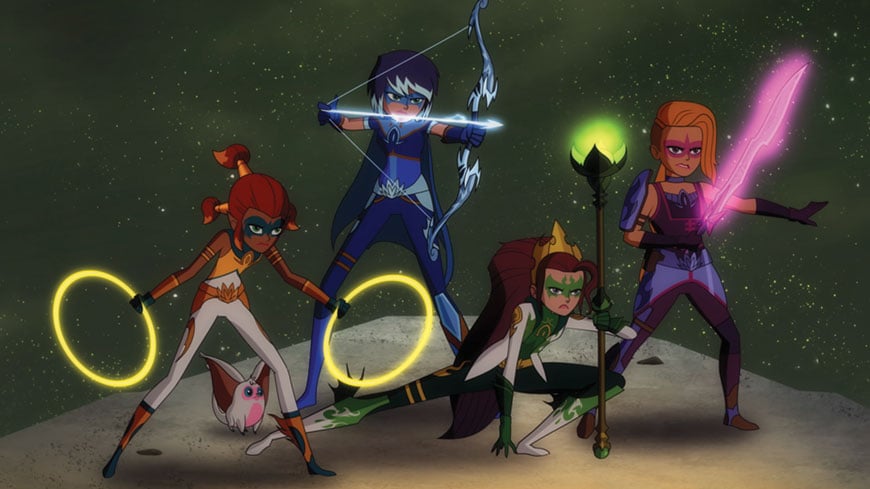 Source: Corus Entertainment.
He continues: "Role models are so important. Everyone wants to see themselves represented in the form of an icon and there has traditionally been a lack of girl heroes in animated shows."
According to Inspiring Girls, only 29 percent of cartoon characters are female and often they are damsels in distress or forlorn lovers. Jara believes that the lack of onscreen female representation reflects a lack of women behind the scenes. He's right: Women in Animation notes only 20 percent of creative roles are occupied by ladies. By contrast, 80 percent of the "Mysticons" writing team is female.
"Equal access to opportunity is just as important as representation on screen, and in the spirit of changing that statistic of only 29 percent of animated characters being female, I think it is important for women to have space to write new stories," he tells us.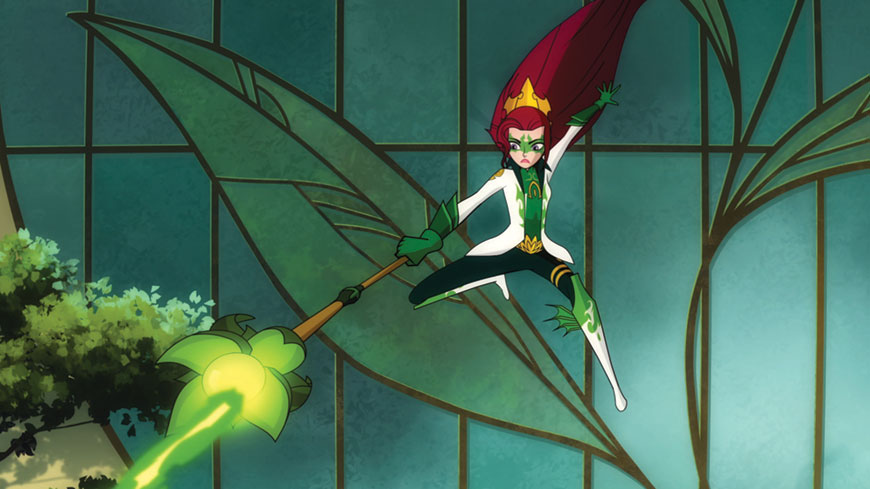 Source: Corus Entertainment.
The benefit of female scribes in animation was recently espoused by "Rick and Morty" creators Dan Harmon and Justin Roiland. In an interview on "Daily Beast", they explained a gender-balanced writers' room in season three allowed for stronger character development of the series' two main women: Beth and Summer. (The previous two seasons had exclusively male writers.)
Naturally, with female characters and writers, the next step was bringing these strong leading ladies to life. That responsibility fell on 40 animators across Nelvana Studios and Yeti Farm Creative, both in Canada, who created "Mysticons" in Toon Boom Storyboard Pro and Harmony animation software. Broken up into three groups (one at Nelvana, two at Yeti), each team produced a show in five weeks with additional time for retakes.
"Just because our main characters happen to be girls doesn't mean we hold back on the action," says Matt Ferguson, animation director at Nelvana Studios. "We needed to create a brand new fantasy world in an urban environment with complicated characters that flip, fly and kick butt — and this adds complexity to everything from boarding to design to animation."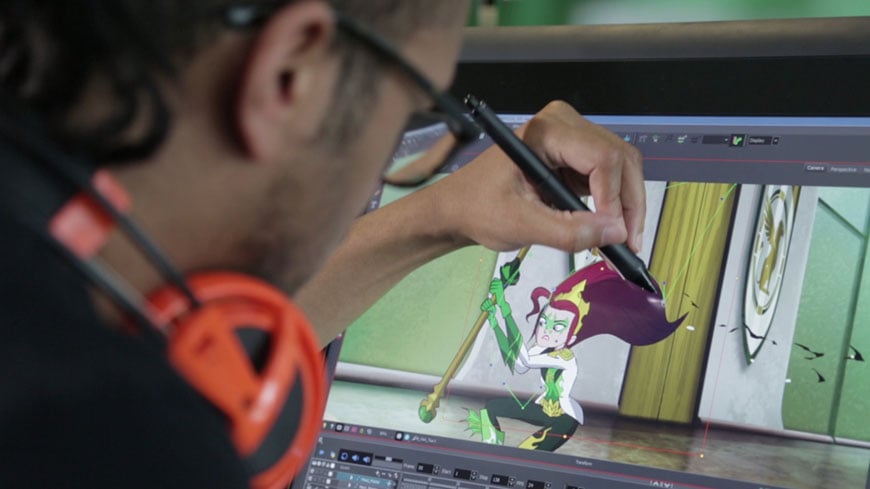 Source: Corus Entertainment.
The animation direction for "Mysticons" was inspired by fan-favourite action series like Bruce Timm's "Batman: The Animated Series", Genndy Tartakovsky's "Clone Wars" (the 2D version) and "Sym-Bionic Titan". The goal was to create something that looked traditional but still had the control of digital.
"In studying a number of traditionally animated action shows, we realized a lot of the style had to do with restraint — very purposeful movement without over-animating," says Ferguson. "On 'Mysticons', we try to allow things to remain still when they need to, but become full and fluid in motion. In production this approach became known as 'spare with flare'."
This balance of traditional aesthetics with digital flexibility made Toon Boom Harmony the ideal choice for the production. All 3D elements were also animated in Harmony, allowing Ferguson and his team to create "Mysticons" without needing to bring in another program. This ultimately provided greater consistency and complexity.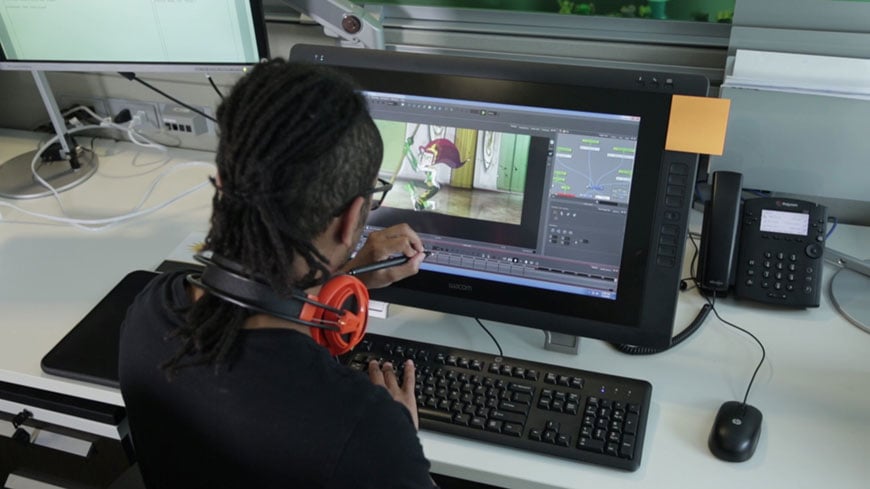 Source: Corus Entertainment.
"Toon Boom [software] has allowed for a level of sophistication in the character rigs that gives a more traditional feel to the animation, while retaining consistency throughout the series," says Ferguson. "Additionally, our incredibly talented FX animators have been able to add rich, magical FX directly within Toon Boom [Harmony] without the need for outside compositing software."
With rave reviews popping up daily for the trailer, "Mysticons" is proof that not only can a female-driven animation have action, but it can attract attention and acclaim. While the series is certainly progress, one can hope its audience —young girls and boys— will grow up to build a world where societal gender balance isn't just a fantasy.