This Lucha Libre animated graphic novel is a visual storytelling slam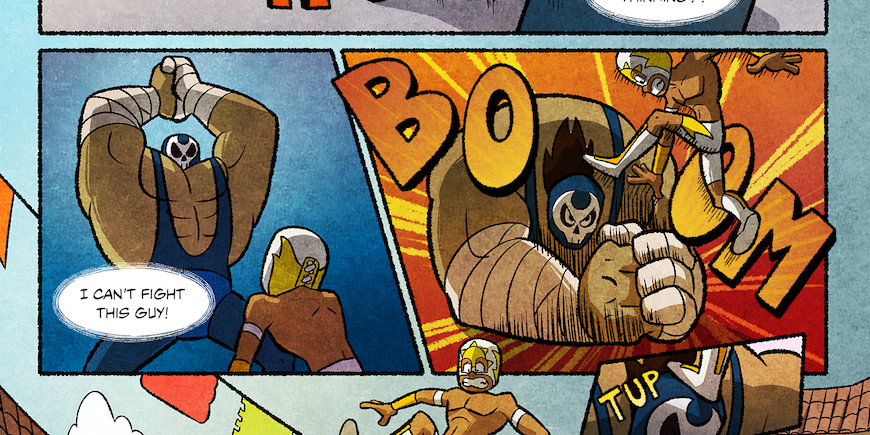 Tags: Education Harmony Customer Story Storytelling
One of the benefits of the animation industry becoming increasingly global is the stories it tells are more and more diverse. The most prominent example is Pixar's Coco; based on the Mexican Day of the Dead, it was the first nine-figure film with an all-Latino cast and won the Best Animated Feature Oscar in 2017. Centred on Lucha Libre wrestling, Sol Naciente captures another element of Hispanic culture and throws a new form of visual storytelling into the ring: animated graphic novels.
Raymundo Mendoza Landa is the visionary behind Sol Naciente, with the 50-page animated graphic novel being the final project for his animation/illustration BFA from San Jose State University. It was supported by a successful Kickstarter as well as around 30 volunteers (including Mendoza Landa) — 20 artist roles and 10 non-artist positions. It launched for free online on May 17.
Click here to read and watch the full Sol Naciente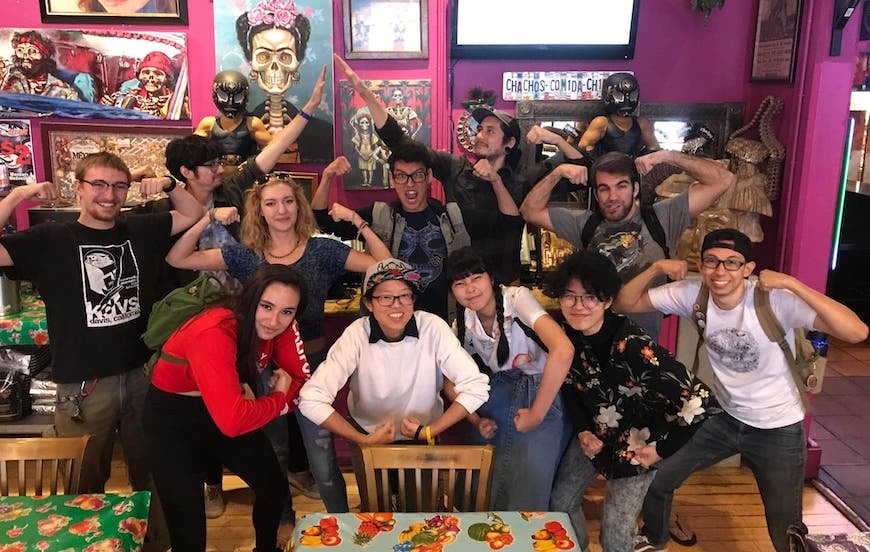 Source: Raymundo Mendoza Landa

Sol Naciente is based on Mendoza Landa's cultural experience growing up in a Latino-American household and follows a young, lanky Mexican boy who wants to be just like his dad: a hugely popular luchador wrestler. In the end, he learns not everyone can be exactly like their heroes and there's power in forging his own path instead.
With only a year to tell the story he had in mind, Mendoza Landa realized he could go further with a comic book. When his roommate suggested he animate key panels, he knew he had his medium.
"I didn't want to animate something just for the sake of animating something; I wanted to make sure that it was in some way, shape or form enhancing the story and going beyond the medium of comics," recalls Mendoza Landa.
He continues, "Lucha libre has a rich history in its own right, which is something that a lot of people overlook — it's essentially live-action theatre. It was a good pairing because comics often get overlooked as a storytelling medium too."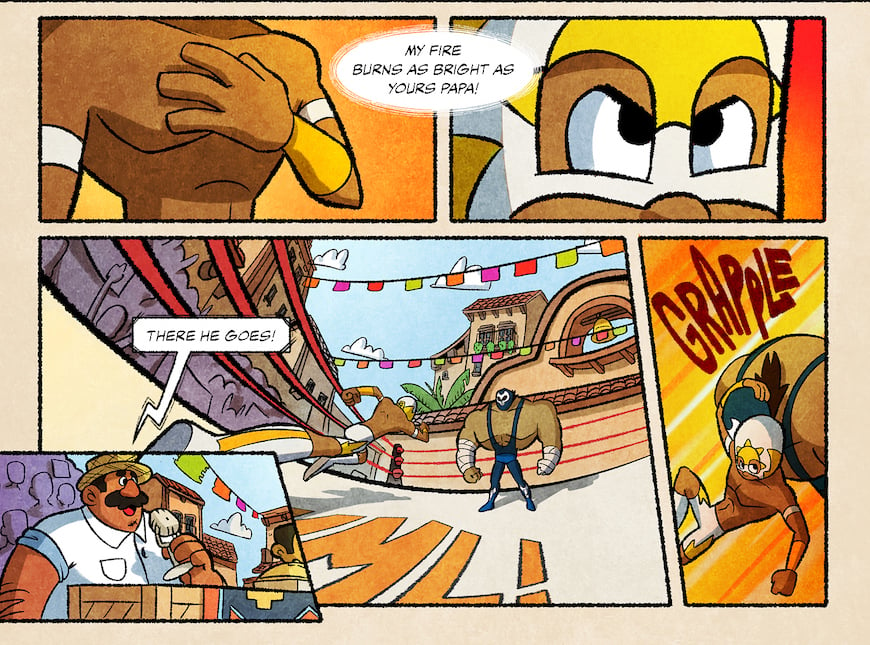 Source: Raymundo Mendoza Landa
Mendoza Landa certainly forged his own path by creating an animated graphic novel — and it paid off. Sol Naciente combines the storytelling structure and visual layout of a comic book with the fluid animation of a cartoon. This is different from a motion comic, which brings an existing print strip to life using motion graphics-style animated elements, voice acting and sound effects.
Instead, around 10 percent of Sol Naciente's panels are fully animated for added emotional or narrative impact using Toon Boom Harmony. These clips allow the reader to step into the moment being shown as opposed to just a still frame. For maximum effect, Mendoza Landa and his team fully animated as much as possible.

Older peers had told Mendoza Landa that Harmony would be best suited to his project. Investigating that recommendation, he discovered Toon Boom's student pricing, which made the digital solution accessible to him and his team. While Mendoza Landa had learned the basics of Harmony in school, he taught himself the more complex animating techniques using YouTube tutorials and the Learn Portal.
"We wanted to see how far we could push Harmony's compositing features," says Mendoza Landa "One of the fun challenges was trying to replicate the textured brush we were using in Photoshop to contour the characters and add this sketchy feel. We tried to mimic that same brush in Toon Boom — and did it!"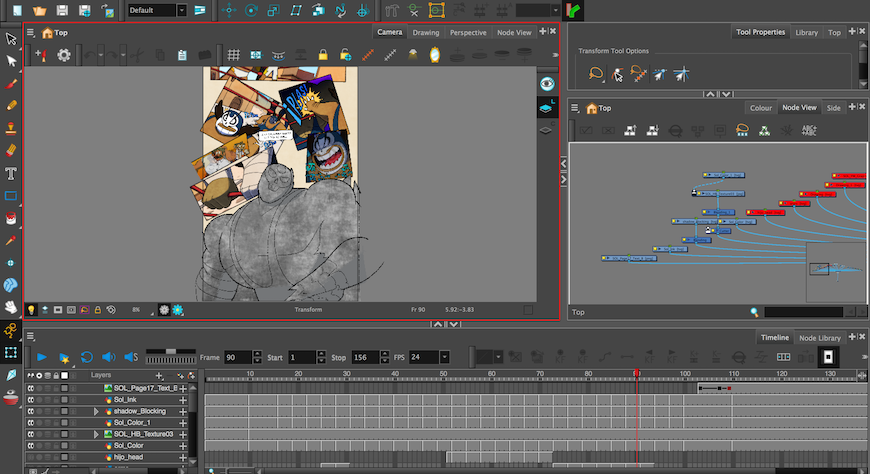 Source: Raymundo Mendoza Landa
Given that he only had a year to produce Sol Naciente, working with Harmony helped Mendoza Landa save tons of time while maintaining line-work consistency across the animation and comic book. Features that automated the production process without compromising quality included using the lasso tool to colour multiple frames and layers, and easily importing and exporting palettes and sequences to facilitate collaboration among the team.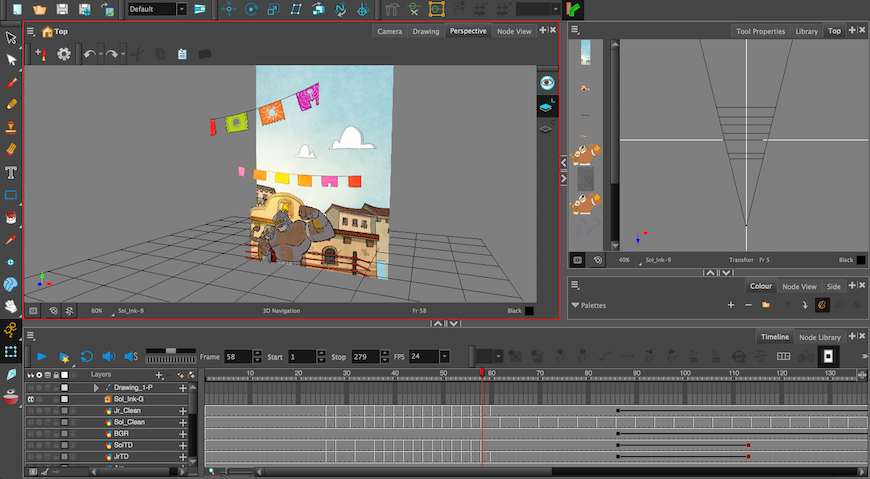 Source: Raymundo Mendoza Landa
Mendoza Landa explains, "Not only did we have this textured brush, but we also had this parchment texture that overlaid on the animation. Being able to import the textures in there and then be able to mask it and use the blending node to get the same look that we achieved in Photoshop was very, very helpful. It made it easier to get it all done in one file and was a big time-saver."
The end results truly knocked it out of the ring. Having just wrapped Sol Naciente and graduated from San Jose State University, Mendoza Landa's next move is a story internship at Pixar Animation. Given how well he tackled this production, we suspect this visual storyteller's career is going to be a total slam.

Banner image source: Raymundo Mendoza Landa