The Path to Pro – Christina Halstead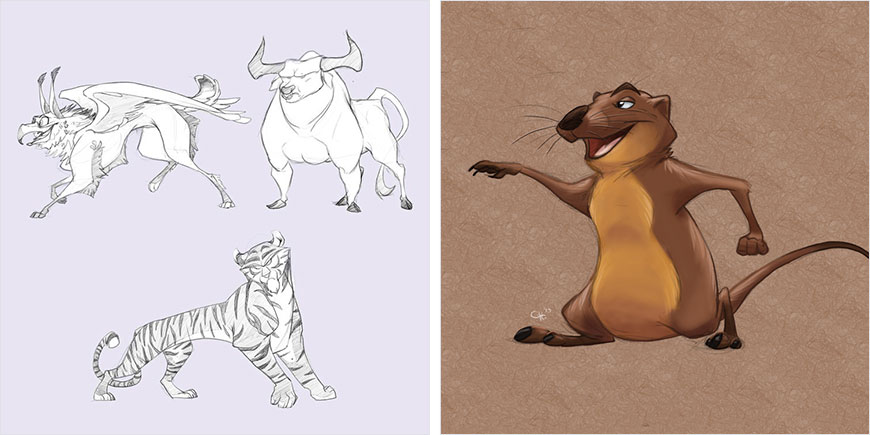 Tags: Harmony Customer Story Storytelling
How do you turn your interests and skills into a professional career in animation? Christina's journey to becoming a technical director reveals that being self-aware and prepared for the opportunities that arise can help you get there.
As a kid growing up in Michigan, Christina never dreamed she would one day be a technical director for a major studio in Glendale, CA. Looking back though, her interests as a child provided a couple of clues…. she loved Transformers toys, Micro Machines and stuffed animals. "If a toy had articulated joints, I was fascinated with it. Barbie didn't quite do it for me," recalls Christina. Little did she know it at the time but the hours spent posing and making up stories for her action figures and plush dolls would be the first steps on her path to a career in animation.
Christina didn't have much interest in coloring or drawing when she was little. But by the time high school rolled around, Christina found herself drawing countless creatures and goofy characters all over her folders.
After graduating high school, her parents insisted she earn a degree from a major university. She decided to pursue her interest in animals and entered the Pre-Veterinary program at Michigan State. Gradually though, she sensed something wasn't right and she found herself doodling during class. "By my second year at MSU, I had more drawings than text in my notebooks," Christina remembers. "It dawned on me that what I really wanted to be was an artist." She took a deep breath and shifted from the Pre-Vet program into Studio Arts. "Knowing myself was something instilled in me by my mother, and that self-awareness gave me the confidence to make the change," she says.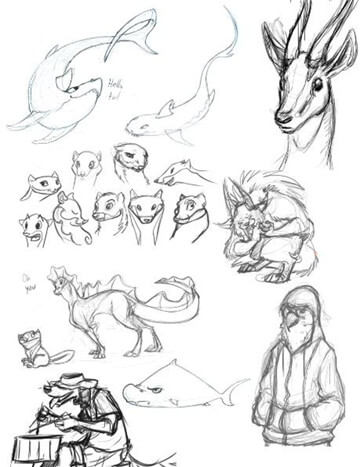 Having a career in animation was still far from her mind when Christina graduated. But her path was becoming more clear. "I wanted to go beyond drawing and get deeper into the world of story-telling." She enrolled at the College for Creative Studies in Detroit, Michigan where they had a strong program in digital media and animation. She immersed herself in a mix of traditional and digital art classes and set herself a new career objective of becoming a storyboard artist.
Her focus paid off. After graduating from CSS with a BFA in Traditional Animation she landed a job as a storyboard artist for a local company that shot live action videos. There were not many storyboard artist openings in Detroit at the time so when that job ended Christina faced another fork in the road. The jobs that she craved were way out West, so should she relocate or stick around?
By this time, she had met Ben Halstead (now her husband), a talented artist and a fellow CCS graduate. He had similar aspirations and so they loaded up a small car and set off for Glendale, confident that jobs in the creative industry awaited them in California. Upon arrival, they found an affordable place to live and Christina took a retail sales job at GameStop to have some money flowing in. Ben had skills as an animator and upon discovering Toon Boom Harmony a few months later at the CTN show in Burbank, they decided they would teach themselves how to use it. They consumed every Harmony tutorial and video available in marathon sessions that lasted into the night, as well as teaching each other animation techniques that they had individually worked out. Christina mastered not only the drawing and timing tools, she went deep into rigging and learned the intricacies of cut-out style animation.
http://www.11secondclub.com/competitions/july15/entry/N9xgHQ
Ever since they arrived in California, Christina and Ben kept in touch with other CSS alumni in the area and attended every animation industry event they could find. Christina kept her artistic chops up by doing paid commissions to create artwork that she got online. It was not long before they were contacted by an indie game developer who wanted help in making a 2D side-scroller based on a new Harmony pipeline that fed assets directly into the Unity game engine. When Toon Boom helped the developer with some funding, Ben got the greenlight to build the artwork in Harmony. It was an important milestone for Christina too. She developed her first game character --inspired by a dragonfly --- for the demonstration game called Wishfall. The game was a labor of love and featured well-crafted cut-out rigs, lush fantasy backgrounds and entertaining gameplay.
Toon Boom featured Wishfall at several trade shows, promoting the pipeline from Harmony to the Unity game engine. When Ben and Christina were asked by Toon Boom to demo at shows like the Game Developer Conference they jumped at the chance. Their enthusiasm and expertise always drew a crowd. Aspiring animators flocked around their workstation, eager to get instant expert advice on Harmony. Industry veterans from the many studios that use Harmony were watching too, always on the lookout for new talent.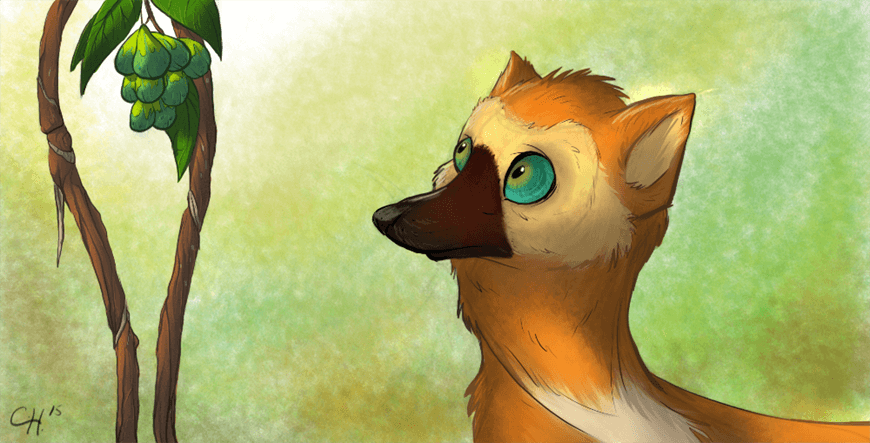 The time spent in learning Harmony was beginning to pay off. "Exactly how things happened felt sort of random at the time, but we had faith we'd both land in good places to work," says Christina. Ben got the first big break when he was contacted by an advertising agency to work on a series of animated ads for Intel.
Meanwhile, Christina had set a new goal. She wanted to work as a character rigger/animator at a major studio where she could both apply her talents and learn from others. The opportunity came when a storyboard artist from a major studio noticed them in the Toon Boom booth at SIGGRAPH and invited them to meet. Soon after, Christina accepted a Technical Director job at Disney Television Animation. At almost the exact same time, Ben accepted a position at another well-known TV animation studio.
Surely every person who is a professional animator has arrived there via a uniquely personal journey. Christina's path to pro was paved with lots of self-awareness and determination. At each stage she had a clear goal and did the hard work to reach it. "I always knew what I wanted, I just wasn't sure how I was going to reach my goals," says Christina. She loves her job and says there is only one thing she wishes she had now -- "more sleep!"