The ultimate animation insider's guide to Annecy and Mifa 2018
Tags: News Animation Film Television Education Trends Tips and Tricks Advertising Content Marketing Hobbyist Games
In a business as celebrated as animation, it can understandably feel like there's a different festival, award or event every week. However, unlike singers Beyonce or Madonna, few command the star power and brand recognition to be known just by a single name — except Annecy, of course. The 2018 Annecy International Animated Festival will be held June 11 to 16 and Toon Boom has the insider's guide on what to see and do at the industry's top event
Annecy 2018 and the adjoining International Animation Film Market (MIFA; June 12 to 15) attract the animation industry at all levels — from artists to amateurs to audiences. The upcoming festival will bring together more than 100 global experts; 42 meetings across masterclasses, conferences, keynotes and more; and celebrate the accomplishments of the burgeoning Brazilian market. There will also be 450 hours of screenings, 220 films in official selection and 10 features in competition for the prestigious Cristal Award — including two produced in Toon Boom software.
Mifa 2018 will be expanding to 1,640 m² (up from 1,600 m² in 2017), packed with producers and broadcasters, government reps, recruiters, studio professionals and educators all networking and looking for the next big talent, tool or title. This year's event will feature new Virtual Reality (VR) and video games areas plus market screenings, demo sessions and more. Hot tip: The biggest names in animation will also be visiting the Toon Boom booth (2.002).
To help you make sense of what to do and see at Annecy 2018, check out Toon Boom's insider guide below.
Who will win at the Cristal Awards 2018?
The closing ceremony will be held 8:30 to 10:30 pm on Saturday, June 16 at Beaulieu Grande Salle.
Of the record-breaking 3,080 film submitted for Annecy's official selection, 10 feature films were chosen to compete for the prestigious Cristal Award — the event's highest honour. The thematically and geographically diverse nominees were created across 12 countries, with two produced in Toon Boom Storyboard Pro and Harmony: Funan and Tito and the Birds. Additionally, Cartoon Saloon's critical darling The Breadwinner was also storyboarded in Storyboard Pro. See Toon Boom's detailed look at the Cristal Award nominees here.
Visit the Toon Boom booth.
Toon Boom's Mifa booth 2.002 will be open June 12 to 15.
As a longtime Annecy attendee, Toon Boom's presence at the festival gets bigger every year. The world's leading animation software will have a booth with special efforts to support France's industry. Come see designated demo artist Marie-Ève Lacelle, who will be doing presentations in French, or meet with Toon Boom France agent Matthieu Sarazin alongside a sales delegation representing key international regions. The booth will be a networking nexus at Mifa, gathering top professionals from major and service studios.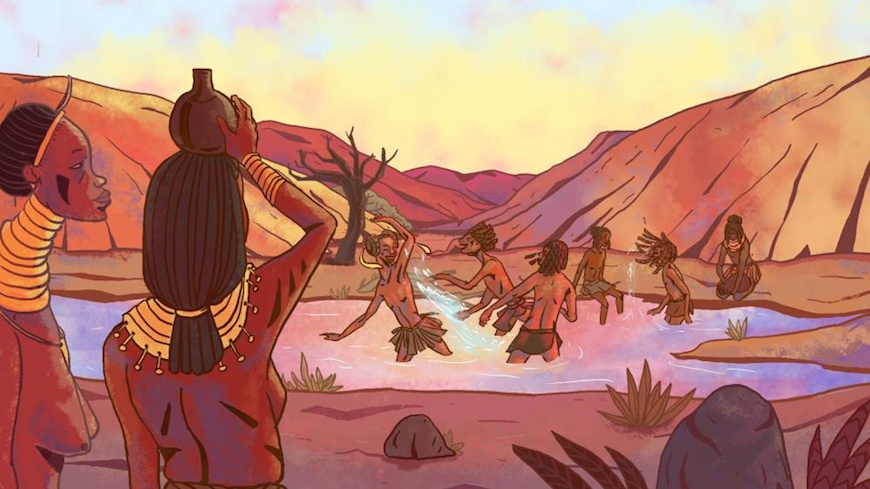 Source: Zeropoint Studios.
See the next big animation at Mifa Pitches and Animation du Monde!
Running June 13 to 15 in the Impérial Palace, Salle de L'Europe and Rotonde de L'Europe (fifth floor)
Mifa Pitches is where producers, distributors and financiers come together to spot the next big innovative —and investment-worthy— projects. Animation du Monde is an additional session to present talent from countries with emerging sectors. Among the most promising projects is Mumue, a co-production between Zeropoint Studios (South Africa) and Copernicus Studios (Canada). It follows the eponymous African desert tribe girl as she contends with child marriage traditions. Get a preview of Mumue's plot and how it will be brought to life using Toon Boom software here.
Take a Brazilian animation adventure.
Ongoing throughout the Annecy Festival and Mifa.
South America's largest nation is producing some truly 'Brazil-liant' animation. It will be highlighted and honoured at the 2018 Annecy Festival, including screenings of classic and contemporary homegrown pieces like The Boy and the World (2014 Cristal Award for the Feature Film winner) and 1953's Amazon Symphony. Over at Mifa, there will be a significant Brazilian delegation with a 45 m² stand. Also, save the date for the Brazilian Party by Annecy Lake hosted by Titrafilm Paris and sponsored by Toon Boom (9:00 p.m. on Thursday, June 14).
Need an animation job? You've come to the right place.
Recruitment ongoing through Mifa.
There will be over 30 animation studios recruiting at Mifa 2018, ranging from the established (Walt Disney Animation Studios, Sony Pictures Animation) to emerging leaders like Boulder Media and DreamWall. Other studios hiring that use Toon Boom software include Copernicus Studios, Xilam and more! Check out this piece on how to get an animation studio job at Mifa 2018.
Learn from the legendary Richard Williams at Mifa Campus.
Mifa Campus will be held June 12 in the Impérial Palace.
Just starting out in animation? The second-annual Mifa Campus will be a day-long event dedicated to connecting students and young talent to experienced industry professionals. The focal speaker will be Who Framed Roger Rabbit animation director Richard Williams; "Conversation with Richard Williams" will see him share about his decades of industry experience.
Go inside the animator's studio.
Studio Focus will be held June 11 to 14 in Salle Pierre Lamy.
Household-name studios like Netflix, Pixar and Nickelodeon will be offering a unique, unparalleled opportunity to discover their creative and technological processes through Studio Focus. There will be two presentations daily from June 11 to 14, packed with conversations with the industry's top talent.
Huge titles on the big screen.
Ongoing throughout the Annecy Festival.
From Hotel Transylvania 3 with Genndy Tartakovsky to The Incredibles 2 with Brad Bird, be among the first anywhere to see screenings of the year's most anticipated animated features in the presence of the artists who created them. Plus, there will be sneak peeks of other major titles like DreamWorks' How to Train Your Dragon: The Hidden World and Disney's Wreck-It Ralph 2.0, as well as smaller gems like Bao by Domee Shi.
And the 2018 Mifa Animation Industry Award goes to… Women in Animation!
The Women in Animation World Summit will be held all-day on Monday, June 11 at the Impérial Palace Hotel.
Women in Animation (WIA) is the first group to ever win the Mifa Animation Industry Award. WIA has worked to build a supportive community for female professionals in the art, science and business of animation — especially poignant in the wake of the #MeToo movement. The second Women in Animation World Summit is themed around inclusion, with panels covering topics like "NextGen World View", "What 50/50 Means to Allies" and "Developing Diverse Talent".
What are you most excited for at Annecy and Mifa 2018? Let us know in the comments below!