Top Animation News: Mifa Pitches, Cartoon Trump, Bardel and more!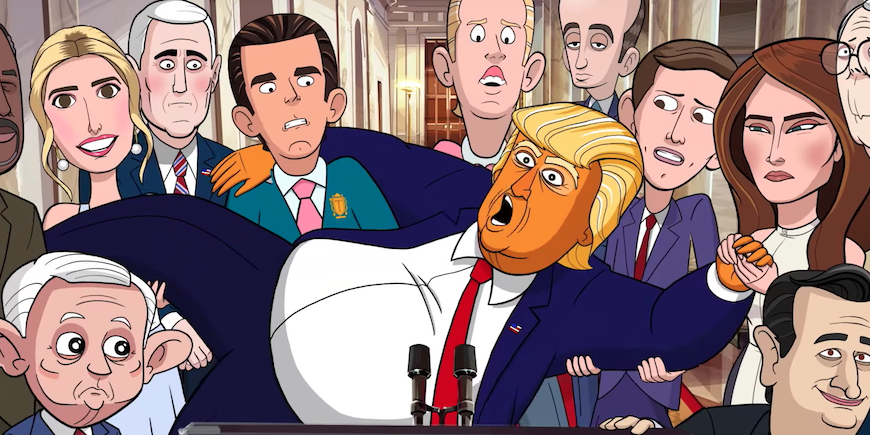 Tags: News Animation Film Television Trends Advertising Content Marketing Top Animation News
Top Animation News is a weekly column that rounds up the biggest, best and breaking stories from the world of animation. This edition covers December 15 to 22, 2017.
Annecy opens up MIFA Pitches for 2018.
The Annecy International Animation Film Festival has put out a call for Mifa Pitches entries. It's looking for original animation projects in the initial stages of development in the categories of feature films, short films, television series and specials, and interactive creations and transmedia. The pitches will be presented at Mifa to an international professional audience, and can lead to prizes like distribution deals, residencies and individual project grants up to $41,500. Last year, over 170,000 euros in production funding was distributed among winners.
For more on Annecy's Mifa Pitches, head over to "Cartoon Brew".
Stephen Colbert's "Our Cartoon President" elects for a February debut.
Late-night host and comedian Stephen Colbert has earned high praise —and ratings— for his animated take on U.S. president Donald Trump. The gag, which has appeared on "The Late Show" for months, will become its own series on Showtime: "Our Cartoon President". Set to debut on February 11, it will give an inside perspective on the life of the orange man in the White House. Tim Luecke, who co-created the sketch, will serve as lead animator.
Watch a preview for "Our Cartoon President" above and read the full story on "Vice".
Bardel Entertainment chats the Louie C.K. fallout.
As we covered a few weeks ago, one of the professional casualties of Louie C.K.'s sexual misconduct was his animated series "Cops". Vancouver-based studio Bardel Entertainment, which produces a number of series in Toon Boom software, had 50 of its animators lose months of work. "Cops" was cancelled after the allegations against Louie C.K. came to light.
See the clip with Bardel Entertainment's interview on "CBC".
YouTube star ItsAlexClark credits Toon Boom with his success.
In a recent interview, Youtube animation producer Alex Clark noted his switch to Toon Boom Harmony as a key factor in his success. His channel, ItsAlexClark, has reached over 1 million subscribers. He says, "One of the major things that helped [produce content] was switching all of our animation over to Toon Boom Harmony. It's the same program they use to animate shows like South Park and Family Guy and it has a lot of features that help expedite the animation process. I couldn't do this job without it. If you're reading this and interested in animating, I highly recommend it, it's the absolute best program and has great student pricing. Then watch Stylus Rumble and OnionSkin, they have great tutorials."
Read ItsAlexClark's full interview on "Tubefilter"
Oscars 2018: Two anime films are eligible for Best Feature.
Awards season is in full swing and it seems animation could win big at the 90th Academy Awards on March 04, 2018. Among those in the running are two Japanese anime films: Naoko Yamada's "A Silent Voice" and Sunao Kotabushi's "In This Corner of the World". Though they are competing among 341 total contenders, this will also qualify them for other awards including Best Animated Feature and Best Foreign Film at the 2018 Oscars. This recognition is already a win for Japanese anime and animation as a whole.
Find out more about anime at the Academy Awards 2018 on "ComicBook.com".
Shanghai positions itself as China's animation hub.
The animation industry in Shanghai, China's largest city, is worth an estimated over $1.5 billion in revenue, with its online gaming market also set to hit $13.6 billion by 2020. The surge in growth is fuelled by the arrival of at least six new production companies. Shanghai will also be home to two or three global original anime brands by the end of the decade, with its municipal government hoping to transform it into an internationally relevant cultural and creative centre by 2035. These latter two industries will account for 15 percent of the city's GDP over the next five years.
Check out Shanghai's animation aspirations on "The Strait Times".
Animated short show Saudi-Iranian war goes viral in the Middle East.
An animated video titled "Saudi Strike Force" depicts a conflict between Saudi Arabia and Iran, in which the former is victorious. The six-minute short arrives amid growing tensions between the Sunni and Shi'ite regional powers, and has garnered over 1 million views on YouTube as of writing. "Saudi Strike Force" starts with a Saudi humanitarian aid ship easily besting three smaller Iranian vessels, followed by a series of flexes of the country's military might. Animation is becoming an increasingly popular channel for posturing around the Gulf, with Iran having created a film showing it defeating the United States earlier this year.
Head over to "Newsweek" for the full Saudi-Iranian war story.

Source: Magic Leap.
Magic Leap shows off its much-anticipated AR goggles.
A new player has officially entered the Augmented Reality (AR) arena. Though Magic Leap was founded in 2011 and has raised over $1.9 billion to date, it has kept low until now. The secretive start-up released its headset, Lightwear, which is connected to a pocket-sized computer, Lightpack. The AR goggles will layer visuals onto real life, including animations, for the wearer to see — another outlet and opportunity for our industry.
Take at look at Magic Leap's AR headset on "Rolling Stone".
Bob Givens, Bugs Bunny character designer, dies at 99.
Animation legend Bob Givens has passed away. He was 99. He began his career at Walt Disney Studios working on "Snow White and the Seven Dwarves". He then moved over to Warner Bros, where he his colleagues included cartoon pioneers Chuck Jones and Tex Avery. It was there, in 1940, that he was tasked with creating the rabbit that would go on to become Bugs Bunny. Givens also worked as a layout artist on "Popeye the Sailor" and layout unit supervisor on "Alvin and the Chipmunks".
Dive into Bob Givens' life and career on "International Business Times".

Source: Dunkin' Donuts.
Snapchat releases animated sponsored filters.
Your selfie: brought to you by Dunkin' Donuts. Snapchat recently launched animated filters that can be added to photos and videos, and this week made them available for brands to sponsor. Dunkin' Donuts was the first to hop onto the trend, with a cartoon coffee that gets progressively darker over the course of the day in celebration of the Winter Solstice (and its dark roast coffee, naturally). This is the latest example of the advertising industry's growing affection for animation; just last week, global agency Anomaly did its Christmas card as an animated short.
Snap up the Snapchat animated filter story on "Adweek".
Banner image source: Showtime Youtube.
What Top Animation News were you most excited about this week? Was there something we forgot to mention? Let us know in the comments below!