Youtube animation star Stylus Rumble gives her review of Harmony 15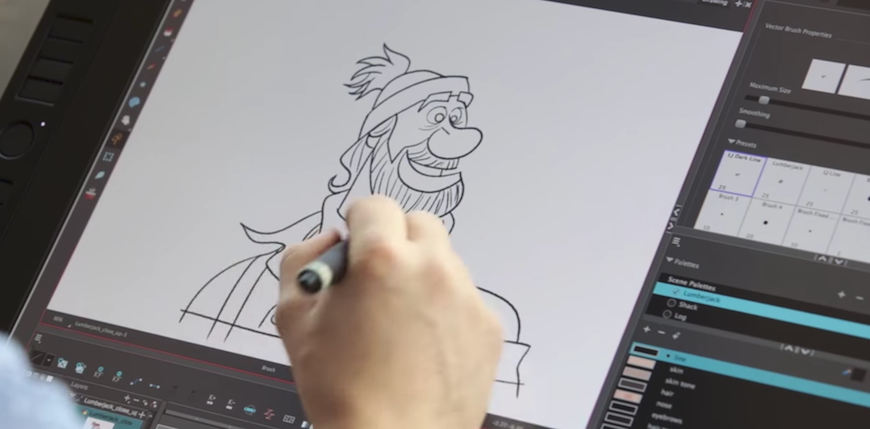 Tags: News Animation Customer Story Tips and Tricks Hobbyist
Harmony 15 launched on October 16 and the rave reviews are already pouring in! Among the first to try our revolutionary latest edition was Youtube animation vlogger Stylus Rumble, known as Tracy Strong IRL. She is a Toronto-based professional animator who works at Pipeline Studios using Toon Boom Harmony.
Her Youtube channel has seen steady growth since she started posting videos eight months ago. A treasure trove of information for those looking to learn or upgrade their Harmony and rigging skills, Strong also interviews other industry pros for different perspectives. Her thorough review of Harmony 15 is educational, energizing and enlightening, and is most certainly worth the watch.
View it below and then keep scrolling for our full interview with Tracy Strong on how she got into the industry, what it's like being a animation vlogger and more on what features she is "geeking out" over in Harmony 15.
Hi Tracy! We adore your videos and want to know more about you. Where are you from? How did you get into animation?
TS: I'm originally from a small community in Newfoundland called St. Philips. There's a wonderful folk-art culture and rich history of storytelling there, but not a lot of cartooning. I've loved animation since I was about five years old. It's like a window into another world that's only limited by imagination — and budget. It's the closest thing to magic that real life has to offer and the more technology advances, the more capable we are to bring those dreamworlds to life.
Your LinkedIn mentions you're at Pipeline Studios — what projects are you working on?
TS: Currently, I'm the effects designer for a Nickelodeon series called "Sunny Day". I work in Harmony 14, doing a mix of tradigital hand-drawn effects, some Frankenstein cut-out devices and particles. I love effects because it incorporates a little bit of everything, and it's always fun to find new ways to combine drawing and technology.
Where do you find the time to make so many great videos? Also, what's it like being an animation Youtuber and connecting with the community like that?
TS: Honestly, I love being ridiculously busy. I have a full-time contract, a two-year-old and Stylus Rumble, which seems to be growing a lot faster than expected. The community has been so positive and enthusiastic, it really makes the whole thing addictive. My favourite messages come from novices, or "baby animators" as I call them, thanking me for making animation more accessible.
Growing up in a rural community, before the internet got useful, I struggled to find new resources. In a way, I started this channel for people like me as a kid, who want to learn and need a roadmap of where to start.
Very inspiring! What's your favourite video that you've made?
TS: The one where I interview Simon Paquette about storyboarding. Honestly, I talked to him because it's something I'm not great at and I'm eager to keep learning. I have been pressuring some of my other industry friends to let me interview them for the channel as well, so I can mine them all for their knowledge.
It's great to keep learning, though your videos already show a lot of skill with Toon Boom. Where did you learn our software?
TS: I was lucky to be at Max the Mutt College of Animation, Art and Design in Toronto the first year they offered classes in Toon Boom. From there, I got an internship on a super low-budget project. Almost the entire staff were junior artists so we had to make everything up as we went. I fell into the rigging and technical stuff because I liked problem solving.
Myself and the other riggers spent a lot of time swapping notes and reading the help manuals. I ended up going back there for three more seasons, just filling in gaps as a generalist. That first job provided a broad base to build my career as a generalist, doing everything from location design, effects, rigging, compositing and whatever they'll let me get my hands on.
And now that you're a seasoned pro, why do you still like working with our software over other animation programs?
TS: I like Harmony because it's so flexible. It has great drawing tools and I love the way the drawing node works; if someone wants to stick to the basics of traditional drawing, that's all they need. For the techno-geeks, the node view and all the little gadgets are like a toy box.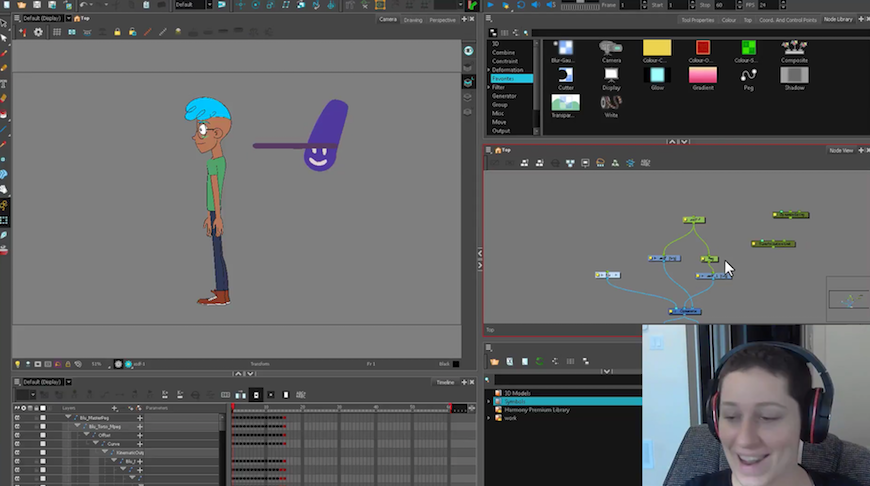 Source: Stylus Rumble / Youtube.
Since you've been working with Toon Boom your entire career, how does Harmony 15 compare to previous editions of Harmony?
TS: I just hit 10 years as a professional in June. I first got my hands on Digital Pro in 2006 and we've seen many steady improvements since. Harmony 15 feels like a huge production staff upgrade. It's for the animators, whereas Harmony 14 had a lot of behind-the-scenes fixes for the TDs or the two percent of us that read the help menus. The last time I was really excited about an update was when we got deformers. That was a major workflow advantage for rubber hose-style shows, ropes and I use them for effects all the time.
We love your enthusiasm and energy around the release! What are your first impressions of the new features?
TS: Harmony 15 is like a new box of toys. Playing around with the constraints is just a tiny part of it. The real fun is going to be figuring out how we can mix constraints and springs with existing tools like deformers to make something even more interesting. For character animators, they're going to see some really useful workflow improvements, but for those of us who like the puzzle part of it, we're really getting the best deal. It's a lot of —very frustrating— fun seeing who can come up with the best new solutions.
What features are you most excited about in Harmony 15? Let us know in the comments below!