A Recipe for Success: Why Combining Live-Action and 2D Animation Works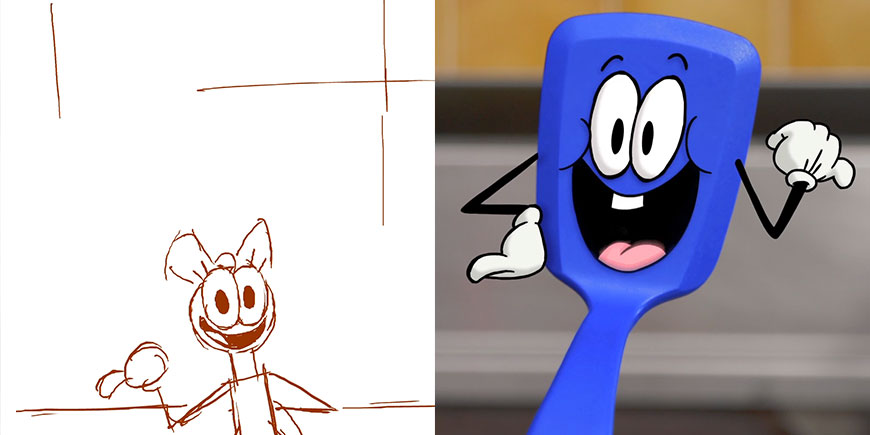 Tags: Animation Television Education Harmony Customer Story How To Tips and Tricks
We caught up with Evan Sussman, Partner and Creative Director at Hero4Hire, to discover his secret to cooking up content that makes nutrition palatable to the pre-school crowd with "The Kitchen Crew Song" for Sesame Studios.
Boston's Hero4Hire Creative recently completed a short video for Sesame Studios titled "The Kitchen Crew Song". The two-minute piece combined animation with live action to engage the imaginations of young children in way that is educational and entertaining.
The animation portions of the video were produced entirely with Toon Boom software. We caught up with Evan Sussman, Partner and Creative Director at Hero4Hire, to discover his secret to making content that makes nutrition palatable to the preschool crowd.
Hi Evan. Tell us about your studio.
Hero4Hire Creative is a design and story-driven studio. Our work ranges from motion graphics for clients like GE, TripAdvisor and Genentech, to original character animation content for companies like PBS, Nickelodeon and Sesame Studios. Our greatest passion is combining animation with live action. "Roger Rabbit" was one of my all time favorite movies growing up.
We love the work you did for Sesame Studios teaching kids to eat healthier. What role does animation have in education?
Animated characters have a universal appeal and accessibility that live action characters don't. When you're educating young children, you want to keep everything as simple and as clear as possible. Animation allows you to make everything simple and clean. Plus you can create cute characters that kids want to be friends with and emulate.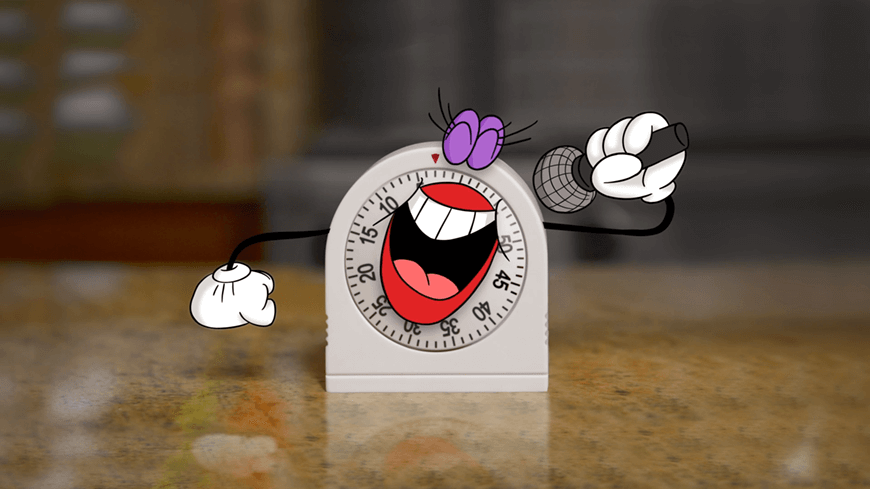 "Tina Timer" was hilarious. What inspires your creativity when working on kids' projects that marry education and entertainment like this?
Ha, thanks! That was actually me doing my best falsetto — my kids love that part. We love creating educational content because of the challenges and rewards of getting it right. We've all watched educational content that's too didactic or preachy and it ends up being incredibly boring. When you can find that sweet spot between making something simultaneously entertaining and educational, it is a very rewarding experience.
Can you describe the process you went through combining live action with 2D animation?
Our first step in any production is to create very clear animatics. We tend to skip the paper storyboard process and go right into board-o-matics or animatics — just something that is actually to time. In this case, we had the song to time out to. After we had our boards, we shot as closely to them as possible. Then the fun began.
Early on, and because of past experiences, we took steps to make the animation easier on the animators. One thing we did was to split up the character tracking between After Effects and Toon Boom. It is very time consuming to animate traditionally no matter what you're doing. And because most of the objects were being held the entire time, they were on screen and always moving.
We told our animation director to ignore tracking the animation when the characters were moving because of natural hand shaking and to only worry about tracking in animation when the object's perspective changed. So if you watched the animation file before tracking in after effects, you'd see the animation sticking perfectly to the object briefly every now and then, but the rest was animated in place and tracked in After Effects.
What were the practical and financial benefits of combining live action with traditional animation?
If the "Kitchen Crew" had been traditionally animated from top to bottom, it would have been more expensive. The nice part about combining the live action with animation in the way that we did was that we cut out so much of what typically needs to be animated. No bodies, legs or backgrounds to design. Once everything was filmed, we could concentrate on the facial expressions and arms.
That said, combining the two does come with challenges. Tracking the animation onto the live action is one, but the most difficult part is the compositing. Whenever we do mixed media, we really want the animation to feel like a part of the scene, not just tacked on. We go to great lengths to add shadows where needed, reflections, motion blur and depth of field. We also changed the color of a few objects, which required a bit of masking. For example, the spatula we filmed was actually red, not blue.
Why do you think there is so much demand for short content these days?
I think the demand for short content is so high because of the way kids discover and experience their media. It's on Youtube or apps like Curious World, PBS Kids, etc.. Plus, with budgets shrinking, companies are less likely to take a risk on a full-length show before it's been tested in some smaller way.
How did using Toon Boom software aid in this project's production process?
Our animation director and animators love the brushes Toon Boom provides. In comparison to Flash, they've described inking in Toon Boom as: "the line actually goes where you want it to."
After many frustrating experiences working with video in Flash, it was a breath of fresh air to use Toon Boom. I could walk over to an animator's desk and watch the animation playing in real-time over the video without anything crashing or chugging. Toon Boom made our production process a much more efficient and less stressful experience.
Have you used Toon Boom for projects combining 2D animation and live action? Share your tips and stories below!