Top Animation News: Isao Takahata, Kids Emmys, certification and more!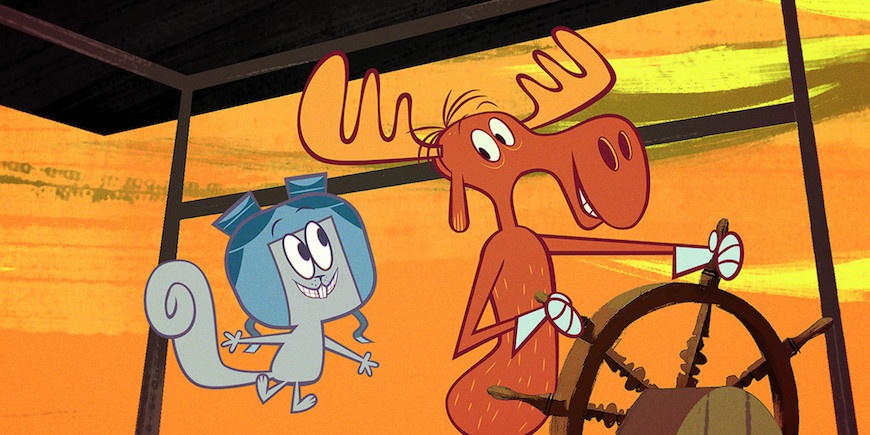 Top Animation News is a weekly column that rounds up the biggest, best and breaking stories from the world of animation. This edition covers April 06 to 13, 2018.
1. Isao Takahata, Studio Ghibli co-founder, passes away.
The acclaimed Japanese anime director passed away last week, age 82. Takahata never received as much of the international spotlight as his colleague and longtime collaborator Hayao Miyazaki, though that doesn't make his body of work any less noteworthy. It included WWII feature Grave of the Fireflies, the more fantastical Pom Poko and his final masterpiece, The Tale of the Princess Kaguya.
Explore Isao Takahata's incredible life and career on "The Atlantic".
2. La Cabane à Histoires wins at the International Emmy Kids Awards!
The 6th International Emmy Kids Awards were held on April 10 at MIPTV in Cannes, France. Among the evening's big winners was La Cabane à Histoires (The Treehouse Stories), taking home the Preschool prize. Launched in 2016, the artistically ambitious French children's series is produced by Dandelooo in partnership with Caribara Production and is animated in Toon Boom Harmony.
Applaud the La Cabane à Histoires win above and read the full story on "Animation Magazine".
3. Toon Boom launches new certification package.
The world's leading 2D animation and career software has developed a new certification process and exam better aligned with its industry-standard curricula, Learn Portal and the way trainers are teaching its flagship programs Storyboard Pro and Harmony. Success will be further enabled by refreshed, refined support materials. Toon Boom has also officially ended its relationship with Certiport, though it will be honour all related obligations owed to clients.
For more information, visit the Toon Boom certification page.
4. Amazon snaps up Rocky and Bullwinkle and Kung Fu Panda series.
Another week, another Subscription Video On-Demand (SVOD) platform announcing an animation project. Amazon will be home to two fan favourites from DreamWorks Animation Television, The Adventures of Rocky and Bullwinkle and Kung Fu Panda: The Paws of Destiny. The former will debut on May 11, while the latter later in 2018. Rocky and Bullwinkle will see the famous flying squirrel and moose once again saving the world in a rebooted series, while Kung Fu Panda finds the franchise's protagonist, Po, guiding and protecting a group of panda kids who have acquired unimaginable powers.
Stream the latest Amazon animation news on "Deadline".
5. Rick Knowles turns himself into a Toon Boom expert with the Learn Portal.
Artist and instructor Rick Knowles has a background largely in traditional animation. Seeing the industry was rapidly moving towards tradigital, he knew he had to future-proof his skills – fast. He discovered Toon Boom's free online resource, the Learn Portal, and has become not only one of its top 10 users, but a Storyboard Pro and Harmony expert in the process.
Discover his Learn Portal journey to becoming an expert on the Toon Boom blog
6. The Unicorn Rescue Society is produced in Toon Boom Harmony.
New York-based studio Mixtape Club has announced a new fantastical kids' show, The Unicorn Rescue Society, and it created it in Toon Boom Harmony. Executive produced by Chris Lenox Smith and Jesse Casey, in collaboration with author Adam Gidwitz and illustrator Hatem Aly, the animated shorts will be complementary to a book series of the same name. The Unicorn Rescue Society follows an eponymous group, including protagonists Elliot and Uchenna, whose mission is to keep mythical creatures safe.
Watch The Unicorn Rescue Society trailer above and read the full story on "Animation Magazine".
7. Toon Boom is headed to International Animation & Game Business Conference (iABC).
A Canadian animation delegation of 10 organizations, including Toon Boom and its sister company Nelvana, will be going to the 2018 iABC from April 24 to 27 in Hangzhou, China. This year's event is themed around "digital innovation, cross-border integration" and will bring together key players from the international industry for meetings, partnerships and creative collaboration. iABC 2017 saw 2,197 registered professionals in attendance, representing 1,539 companies from over a dozen countries.
Venture over to the iABC website for more details
8. Women in Animation and studios pledge to end harassment in the industry.
Following the allegations against Harvey Weinstein last October, Hollywood has been shaken by a series of scandals revealing the dangerous environment females face in the entertainment industry. Women in Animation has united with a group of indie studios on a pledge to have zero tolerance for harassment. Among the 11 companies committed are Bento Box Entertainment, Renegade Animation and OddBot, Inc.
Get the details on Women in Animation's pledge on "Variety".
9. Four animated shorts to be screened at Cannes 2018.
Just over a month away, the 71st Cannes Film Festival had 3,943 shorts submitted for its main competition. Of those, eight were selected and one is animated: Marta Pajek's III (Poland). Additionally, the student-focused Cinéfondation Selection picked 17 shorts for competition and three were animated: Inanimate by Lucia Bulgheroni (UK), Inny (The Other) by Marta Magnuska (Poland) and Sailor's Delight by Louise Aubertin, Éloïse Girard, Marine Meneyrol, Jonas Ritter, Loucas Rongeart and Amandine Thomoux (France).
Catch up on the Cannes 2018 shorts on "Cartoon Brew".
10. Veteran animator Leo Matsuda sells two projects to DreamWorks Animation.
Leo Matsuda caught the industry's eye with his Oscar-nominated short, Inner Workers. Seemingly riding a wave, he has just sold two projects to DreamWorks Animation: Sputnik (based on Frank Cottrell-Boyce's children's book Sputnik's Guide to Life on Earth) and an original concept titled Yokai Samba, inspired by a story from the animator's childhood. Both will be directed by Matsuda.
See more on Leo Matsuda's rising star on "The Hollywood Reporter".
11. Forgotten Anne is a 2D video game x Japanese anime hybrid.
Following a resurgence in popularity last year with titles like Cuphead (coloured in Toon Boom Harmony), the 2D video game renaissance continues in 2018 with Forgotten Anne. Visually stunning, it is hand animated in the style of a Japanese anime. The adventure game follows the titular character as she tries to stop a rebellion in an alternate dimension while also trying to get home to the human world. It will be coming to PlayStation 4, XBox One and PC on May 16.
Plug into Forgotten Anne on "CGMagazine".
What Top Animation News were you most excited about this week? Was there something we forgot to mention? Let us know in the comments below!
Banner image source: DreamWorks Animation TV.